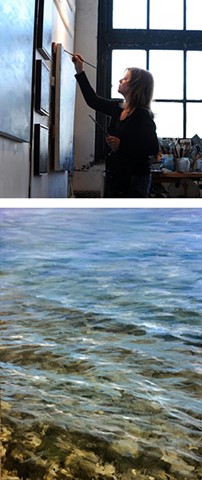 Becky Kisabeth Gibbs
bskgibbs@gmail.com
Studio
Western Avenue Studios
Studio 460
122 Western Avenue
Lowell, MA 01851
"I am inspired by the natural world. Nature draws me in to watch and listen. My interest in the landscape reflects both the romantic concept of finding solace in the beauty of nature, as well as more contemporary issues of human complicity in the destruction of the environment.
An infinite variety of forms inspire my work - the illusive and ever-changing beauty of water, the fleeting and unreachable sky, and the irregular yet repetitive shape of trees.
A recurring subject of my work is the ocean. I never tire of gazing at the sea, a mysterious and constantly changing reflection of it's surroundings. Colors shift subtly by the moment, and rhythmic patterns are created by wind and tide. It is a subject that is abstract and real all at once."
Current work includes oil on canvas, mixed media, drawing and animations of these works.
Becky Gibbs was born in Sandusky, OH, alongside Lake Erie where her love of the water began. She holds a Bachelor of Fine Arts degree from Bowling Green State University, Bowling Green, OH. After moving to the Boston area she continued her studies at the DeCordova Museum School, Lincoln, MA.
She has exhibited her work extensively in New England, and her paintings and works on paper are in private and corporate collections in America, Canada, Europe and South America. Gibbs is also available for commissions. Her most recent commission, a large painting of the ocean, was installed in the lobby of a JGB Smith building in Crystal City, VA.
Gibbs currently lives west of Boston, and recently moved her studio practice to Western Avenue Studios, Lowell, MA. Always drawn to water, she is inspired by the Atlantic Ocean and shore.

Sea Change I, Oil on canvas, 24" x 18"